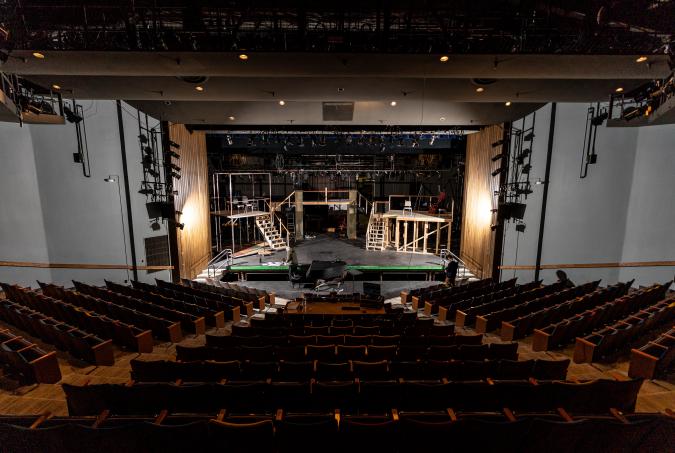 The Evert B. Person Theater at Sonoma State University is a 475 seat Proscenium Thrust Theater situated at the main entrance to the campus, on East Cotati Avenue.  Equipped with an Orchestra Pit and Elevator, this performance space is a flexible theater, dance, opera/musical, and presentation venue. Person Theater is a fully ADA compatible building for audience members and performers. Both the Lobby and Audience chamber were upgraded in 2012.
Opened in 1989, Person Theater is equipped with lighting, audio, projection, and rigging equipment capable of executing almost any design requirements.  The theater is equipped with closed circuit audio and video communications from the control booths to dressing rooms, stage and lobby areas. Above the stage, we feature 36 single purchase line sets and 4 double purchase line sets.  The performance area is 40'-0" wide by 32'-0" deep, and an additional 11'-0" of playing space in front of the Main Act Curtain is available with the Pit Elevator in the upper position. The Proscenium height is 20'-0", with a fly loft height of 43'-0".
The Lighting Inventory includes conventional incandescent and LED instruments, controlled by 235 2.4Kw Strand Century CD-80 dimmers, as a dimmer per circuit installation, as well as 4 20A dedicated circuits, for LED units and accessories, wired throughout the lighting rig.  Control is provided by an ETC Ion Console through multiple DMX universes. A House Lighting Plot is in place which provides for most production needs. This Lighting Plot includes 2 Front light washes, 2 Back light washes, LED RGB Down light washes, LED RGB and conventional side light washes, 2 Pattern washes, 4 color Cyclorama washes, and focusable specials on every lighting position. A standard Lecture/Presentation lighting package is in place for events downstage of the Main Act Curtain. A complete light plot, channel assignment schedule, and magic sheet set are available.  Lighting Plot changes every semester.
Audio and Projection Playback is performed through an I-Mac computer running Q-Lab 3 software, and mixed with a Yamaha LS-9 32 channel digital mixer, which interfaces with a MOTU 8 channel digital converter.  This audio signal is sent to a dedicated stereo MYERS speaker system, with a pre-programmed DSP, sending signal to two full range speakers in the Front of House, fill speakers on the Down Stage edge of the Thrust, as well as 2 double 15" subwoofers mounted in the Thrust elevator. The system includes 8 auxiliary amplifiers capable of sending signal to 16 of 24 discrete locations throughout the theater, using the speaker patch bay. Microphones are available for live reinforcement.
Front and Rear Digital Projection is available, depending upon the current configuration of the theater, through SVGA or HDMI, from the Control booth or computer on stage. The standard screen is a gray rear projection screen, sized is 14'-6" by 10'-0", hung upstage of the Main Act Curtain. Audio interface is also available for video through the audio playback system.
The Theater Fly System available upon request, and only with the permission of the Technical Director.  All rigging must be done by approved, qualified, University Technicians. All items rigged in the theater will be inspected and approved for rigging before installation.
Dressing Room Facilities are located behind the Stage Right wall, and may be accessed from upstage right or downstage right.  This space features a communal make-up area with 30 discreet make-up stations, each with mirror and lights. There are 2 multi-person Privacy Changing Rooms, one Men's and one Women's, located across from the respective bathroom facilities.  Each bathroom is equipped with one shower and 2 toilets. Irons, steamers, and wig preparation forms are available upon request. Make-up is not available.