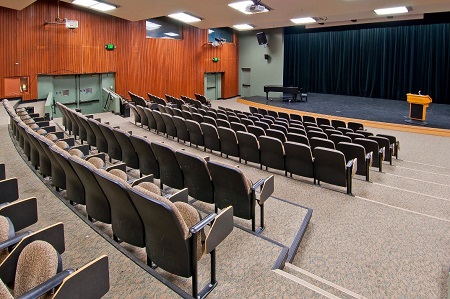 Ives 101/Warren Auditorium is on the first floor of Charles Ives Hall for Performing Arts.  Built in the early 1960's, it is one of the original buildings on the SSU campus, and Warren Auditorium was the original performing space. After extensive renovations in 2006, this space became a 200 seat Smart Classroom and Lecture Hall.  The space still contains a small theatrical stage.
The Stage is comprised of two connected areas. The Apron of the stage is elevated 8" off the auditorium floor, and is 46'-0" wide by 12'-0" deep.  The Proscenium opening is 30'-0" wide by 16'-0" high. The acting area upstage of the Main Act Curtain is 18'-0" deep by 30'-0" wide, and is also elevated 8" above the auditorium floor.
The Information Technology Department has installed a computer, projector and powered lectern for use in the room. There is a 20'-0" wide motorized movie screen, which is operated from the stage, and is positioned downstage of the green main drape.
Lighting for the space is from dimmable fluorescent ceiling lights, which are operable from the Back of the House, as well as from backstage. A small Stage Lighting package is installed in the Smart Classroom to assist with presentations, and is operated from the Back of House Booth.  This package consists of a Front light wash, a Downlight wash, 2 High Sidelight washes, and a 3 color Cyc wash. The 30 Genesis 2.4Kw dimmers are controlled by a Fat Frog DMX lighting controller.
Audio Playback and Reinforcement is controlled from the Back of House Booth, as well.  The audio mix is through a Mackie 1202 mixer, which sends the signal to 2 crown 150A amplifiers for Front of House sound.  Stage monitors are mixed from the Back of House Booth and are powered by auxiliary amplifiers on the stage, connected to JBL 12 wedge monitors.  Sure SM 58 microphones and stands are available, with permission from the Technical Director, at additional expense.
Dressing Room and Make-Up facilities are in Ives 113, which is on the first floor of Ives Hall. Washer and Dryer, iron and Ironing board, as well as, mirrors and lights are available at 12 stations.