Where are they now?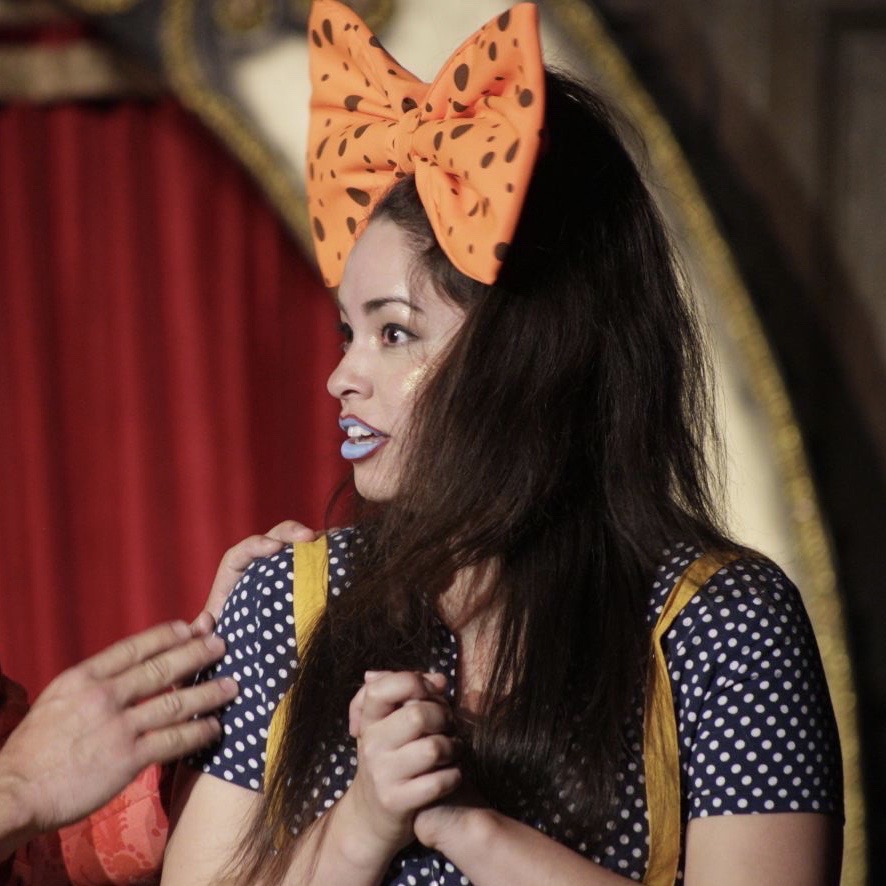 Rosemarie Kingfisher, Class of 2017
The Sonoma State Theatre Department provided me with the most amazing foundation for creating opportunities for myself as an actor in the Bay Area. I felt absolutely lost in my junior year when graduation became more of a reality. I was a first generation Native American college student– I didn't know what I wanted to do, I only knew that I had chosen an acting major to study for 4 years because I loved theatre. The Theatre Department held me through incredibly traumatic events that I was victim to at SSU. Person Theatre and Ives are where I felt safe; I am forever grateful for the faculty that continue to be mentors and support me in my career today.
Since graduating, my career has grown little by little each year. Every new experience contributes to my growth as a person, which in turn makes me a better actor. I dabbled in some community theatre and assistant teaching while I began to audition and integrate myself into the Bay Area theatre scene. The San Francisco Shakespeare Festival became my first theatre home for about a year after college. I was cast in their 2018 outdoor summer production of A Midsummer Night's Dream and the in their fall touring cast for the Comedy of Errors that toured all over California. At SSU I absolutely fell in love with Shakespeare and am so grateful to have found opportunities to immerse myself in it. The second theatre home I found was with Bay Area Children's Theatre. Our own Doyle Ott suggested I audition for them– it was handy that the new show they were trying to cast needed a female clown. I was cast in their 2018/19 acting company and performed in three shows for them.
A most wonderful part of an artist's career is the people you meet. I like to soak up everything I can learn from other actors around me. I learned about an incredible program in Massachusetts, called Shakespeare and Co. and I went to study in their month-long Actor Training Program in January of 2019. I learned more about myself and Shakespeare and my voice and my body than I think I could anywhere else. I couldn't recommend their training enough to ANYONE, especially actors... especially actors who love Shakespeare. With my circus skills background I learned about the San Francisco Circus Center and their 7-month Clown Training Program which I just finished up this spring. I am so grateful for the clown community and what it has taught me and how it supports me as an actor.
Now, faced with COVID-19, I along with all the artists who I have met over the years have to work just that much harder to find our next job. I have been extremely lucky to find online performance work during shelter-in-place. It's hard, it is just barely what we want to be doing and yet it is all we can do. I have done a virtual new-play written by local playwrights from Same Boat Theatre Collective addressing our current social and environmental climates. We are all acting with green screens as our backgrounds in Zoom and I just finished a radio-style version of Romeo and Juliet with Lake County Theatre Co. where only our voices were heard. My next performance is as Angelique in An Imaginary Invalid with the Actors ensemble of Berkeley, Zoom style.
I am inspired by work that is questioning the status quo. The american theatre must change along with everything else, and we artists have so much power, we need to make sure we do better for those who don't have a stage or a screen to speak to the world from. I hope to attend grad-school one day and learn how to use my voice in theatre in bigger ways. One day I see myself directing, maybe in my own outdoor theatre company. Until then, my career continues to grow, as do I.
.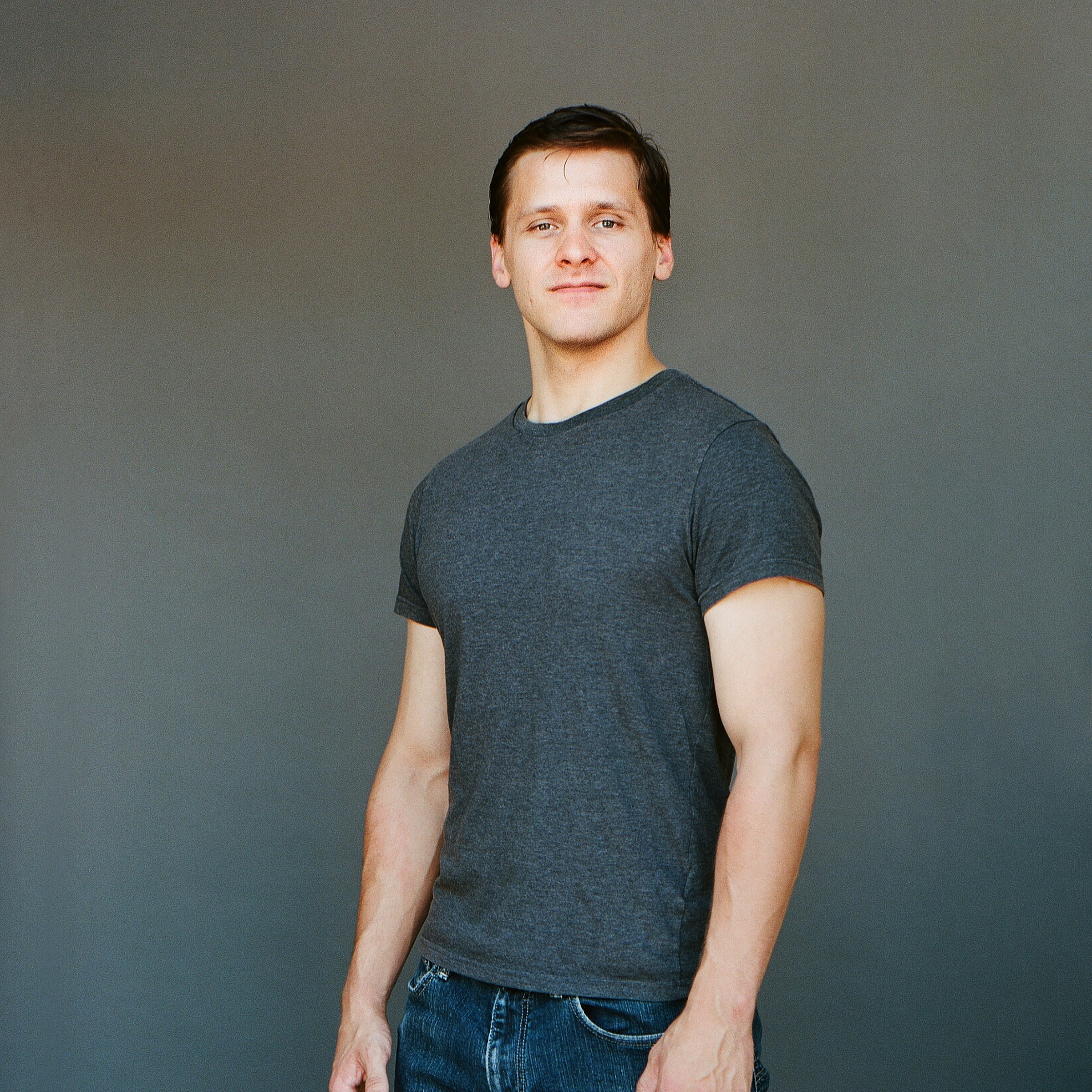 Glenn Davy, Class of 2012
After graduating from SSU and while continuing to pursue a career as an electrician/master electrician/light board operator, I decided to get into shape and found myself training in circus arts, specifically aerial performance apparatuses. I was then talked into auditioning for Marvel Universe Live, a touring live stunt show. I was hired and spent the better part of the next three and a half years touring the U.S. and Western Europe as a stunt performer. After finishing up with the show, I moved to L.A. to pursue film stunts. A few months after that I was called away to work as a performance rigger on Marvel Universe Live 2 where I worked for 6 months. I then came back to L.A. and have been here for a year and a half–pre-covid– hustling to get stunt and rigging work. Covid stopped everything, and filming has only just started happening again around here.
Even though I graduated from SSU as a Technical Theatre Major, the program always emphasized a balanced knowledge of tech, acting, and dance. This foundation translated perfectly into aerial performance, and then to stunts. A couple of moments that probably (unwittingly) set me on my path, were working with Kristen Daley in Block where she complimented me on my movement ability and when Tony (Professor Bish) talked about his past work, shared about the time that he lit his hand on fire, and his interaction with ZFX and Flying By Foy.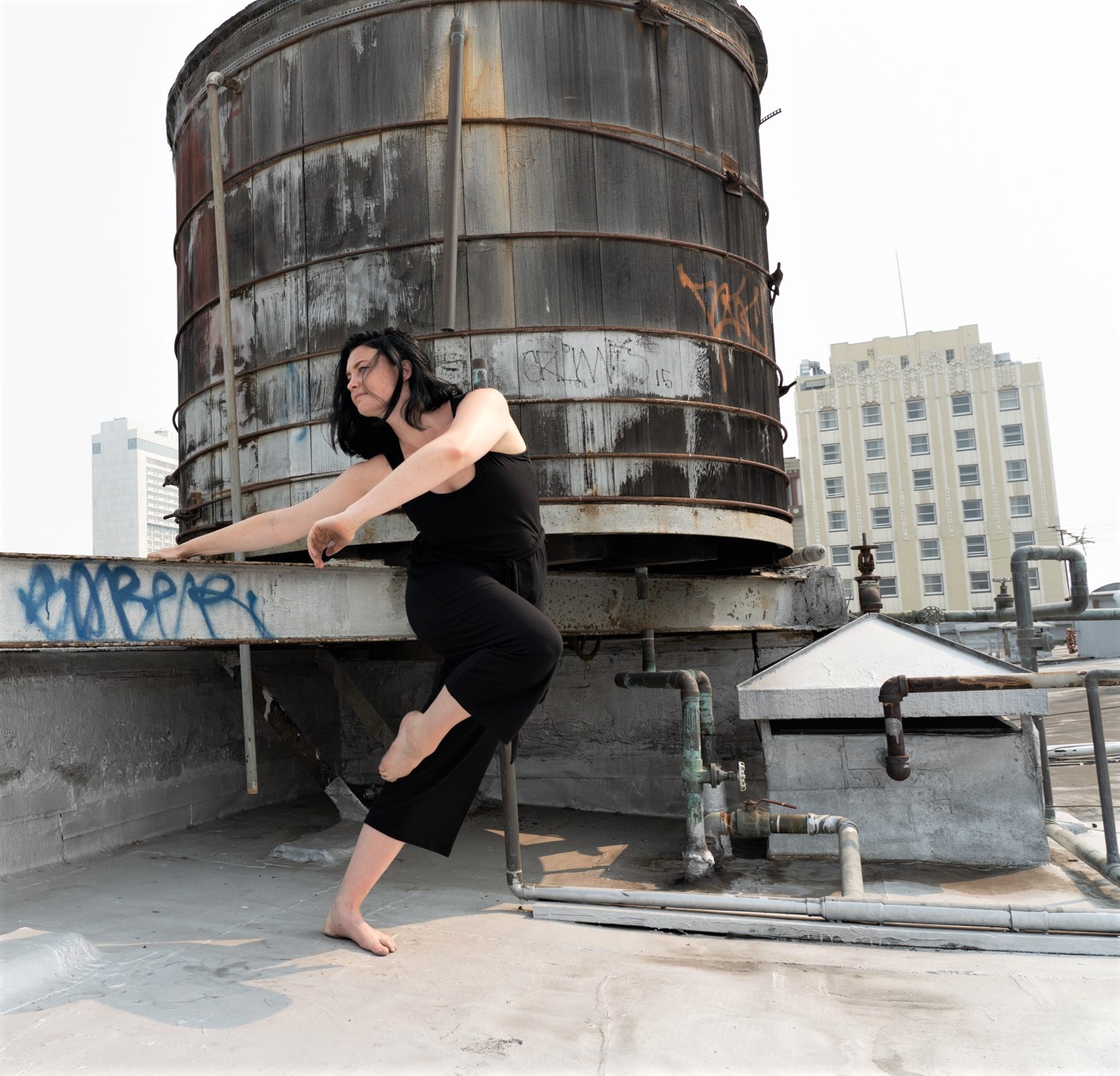 Jenna Valez, Class of 2015
Jenna Valez (she/her) is an artist, dancer, educator, and yogi who currently resides in San Francisco, CA. Sonoma State is where Jenna first began to believe in herself as an mover. All her gratitude goes towards the inspiring, highly intelligent, and articulate professors/mentors that helped her become the artist she is today. Special shout out to Nancy Lyons, Kristen Daily, Christine Cali, and Scott Wells who all were extremely influential in Jenna's journey. Her goal is to one day impact others the way these professors impacted her. She graduated from SSU with a B.A. in dance and psychology in 2015.
Jenna believes movement is a way to uncover our unconscious, which gives light to a path of deeper understanding and care. She currently performs and collaborates with Rhea Speights and Quicksilver Dance Company. She has had the pleasure of performing with CatCallChoir, Cali&Co, Dog+Pony Dance Company, and Maligrad Contemporary Dance Company. Jenna worked as assistant director to Chirstine Cali (Cali&Co) in the curation and performance of WAH!Fest at Dance Mission Theater, San Francisco. She has danced, performed and taught in the Bay Area, New York City, Northampton (Massachusetts), Ga'aton (Israel), Berlin, Amsterdam, and Arrezo (Italy). Her dance company, PULP has participated in several choreographic mentorships and residencies throughout the nation. Their most recent performance was held at Gibney Theater NYC as a part of Doug Varone's DEVICES. She holds her 200-hour Yoga Certification from Yoga Garden SF and is currently studying for her 500-hour yoga teacher certificate. 
Since the pandemic, you can catch Jenna on the weekends teaching PULP online yoga classes. Please reach out to her if you are interested in joining via instagram @pulp.moves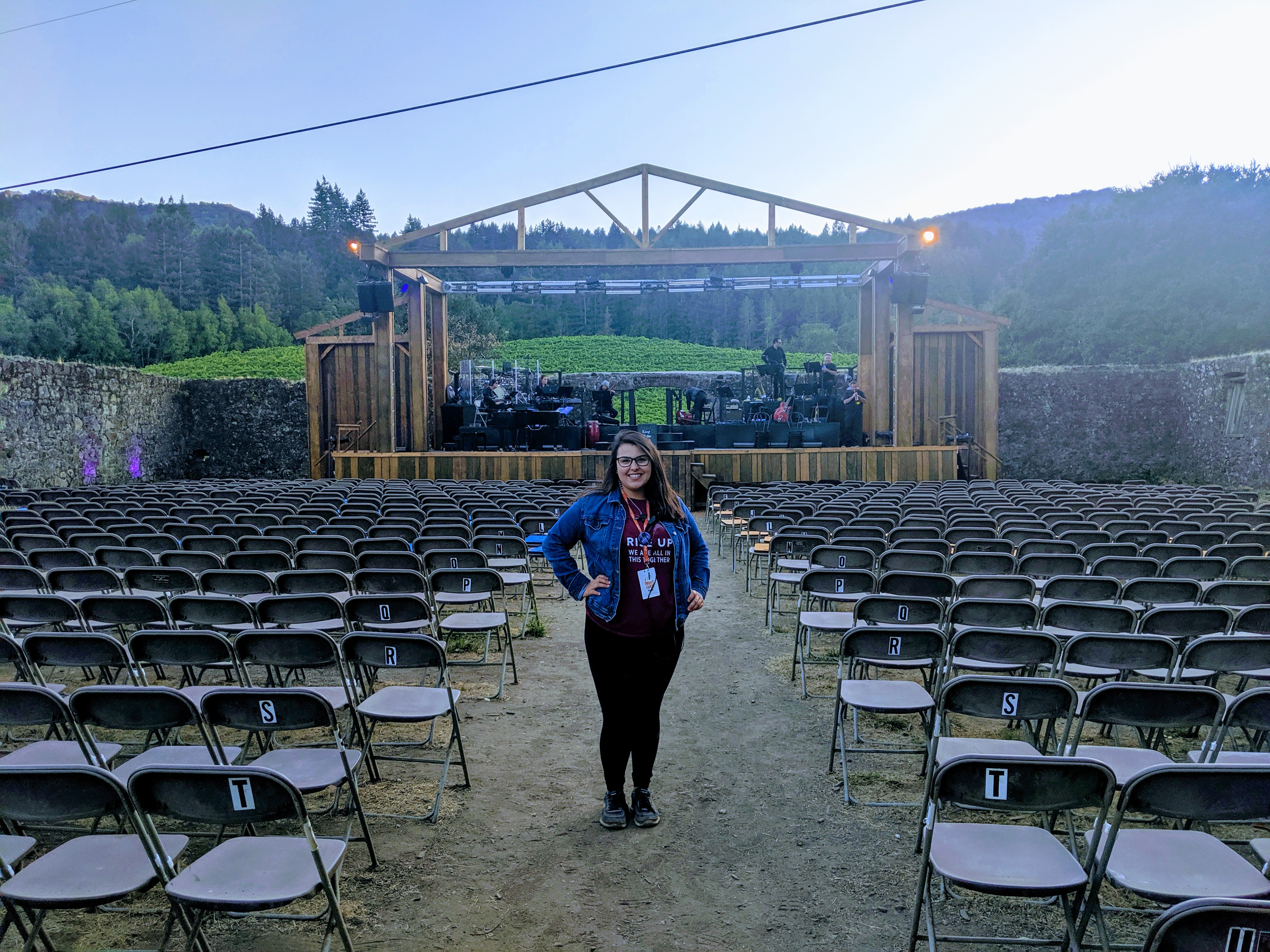 Maggie Simental, Class of 2019
My name is Maggie Simental. I was a Theatre Arts Major with a concentration in Technical Theatre and I graduated from SSU in 2019.
My main focus in Technical Theatre was Stage Management. I really took on a large role within the department during my time there and became a stage management mentor to students who followed after me. Being a Stage Manager at SSU really helped me develop my leadership and communication skills. I grew close to every single one of my casts that I had the pleasure of working with. It is truly a unique skill to be able to communicate with a large group of people and manage varying personalities, but still instill confidence in them that I was someone they were comfortable coming to if they needed anything. It was very important to me that each individual in my casts felt seen and heard individually. That was the biggest and most important skill I developed and expanded while studying at SSU.
I engaged in an internship with Transcendence Theatre Company and in my last semester of college, I applied to work with Transcendence and got hired part time while I finished out school. Since then I have been working full time with Transcendence as the House Manager during our summer season of Broadway Under the Stars, and additionally I am the Executive Assistant to our Executive Director where I am learning and executing all the ins and outs of the theatre business. I feel very fortunate to have gotten a job in my desired field right out of college and even more fortunate to still have a job in theatre during these unprecedented times.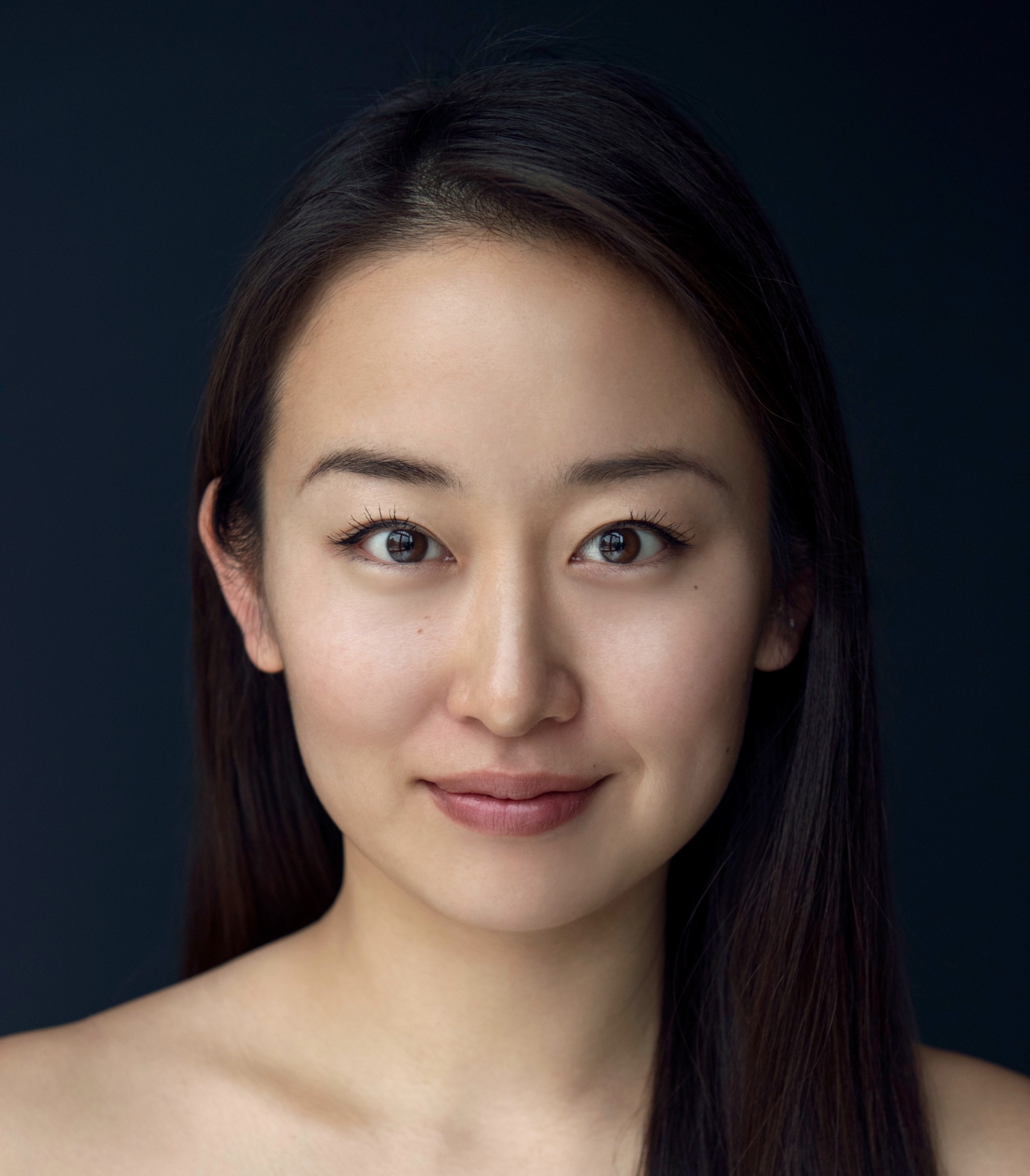 Lisa Kusanagi, Class of 2011
Bachelor of Arts in Theatre Arts, with an emphasis in Dance (cum laude)
I came to the United States for college and to accomplish the coveted American Dream. I always imagined performing in shows on renowned stages and going home with bouquets of flowers. If you look at my resume today, you'll see my dreams have changed. I chose Sonoma State University for practical reasons. I needed an affordable school with performing arts programs in a welcoming community for international students. I recall my first day at SSU; the program was small, unlike the expensive conservatories I had contemplated. Kristen Daley was my professor for my first class of Modern Dance. Trained as a classical dancer and being Japanese, breaking "traditions", making bold choices, and standing out to be wildly unique were difficult things for me to do at the time. After taking more classes from the likes of Nancy Lyons and other SSU faculties, somewhere during my time at SSU, I gave in to become "bold" and express the "raw" side of me. I became a whole new Lisa. It felt good.
My professors cared about me. They took time in guiding me to find an individual movement language; develop my unique artistic voice; and provide a supportive, judgment-free space to explore my creative expression. I interacted with world-renowned guest artists and because of the size of the SSU Dance program made long-lasting connections that facilitated my career. The kindness and genuine care of Nancy Lyons, Kristen Daley, and Christine Cali transcended my check-ins and rehearsals. These were evident in the strong art community at SSU. The people I studied with were cared for, and thus they look after me. My colleagues were committed to my artistic visions, as odd as these visions were at times. The intimacy of the program gave me a sense of acknowledgment, belonging, and community.
After graduated from SSU, I moved to Seattle and later New York City to perform for several dance companies and collaborated on producing productions with international artists. I learned to be more creative there. In 2014, I earned a Master of Fine Arts in Dance from Hollins University (VA) in partnership with the Frankfurt University of Music and Performing Arts (Germany), The Forsythe Company (Germany), and the American Dance Festival (NC). That same year, I started the process in developing my own style and established an interdisciplinary art company, Kusanagi Sisters, with my sister JuJu. The work by Kusanagi Sisters has been presented across the world in the USA, UK, France, Italy, Germany, Austria, Netherlands, Spain, Portugal, Sweden, Norway, Belgium, Albania, Kenya, Canada, Mexico, Cuba, Colombia, Chile, Pakistan, China, Taiwan ROC, Indonesia, and Australia. The work has also been shown at venues including the Lincoln Center, Roy and Edna Disney CalArts Theater REDCAT, AMC Theatre, 92nd Street Y, Movement Research at the Judson Church, JW Marriott Los Angeles LA LIVE, and Cineteca Nacional. Our first original short film, itsy bitsy, has received many recognitions including First Place Award, Best Film Award, and Audience Choice Award. It was officially selected for the BAFTA-qualifying and the 10th Annual Aesthetica Short Film Festival (UK).
The main theme you would see in my work is inclusion. My creative work is both an exploration of a new art form as well as an expression of communicative discovery. I believe art is a social movement, enabling us to gather, exchange, and share insightful thoughts leading to more enriching experiences in the global community. I seek to continue this lifelong investigation, extending and applying it towards the physical, psychological, and emotional well-being of others in a more constructive manner.
I have committed my entire life to the study of artistic expression, first as a trained dancer, then as a committed cross-boundary artist, and now as an educator. I have been fortunate to share my passion for art as a professional in academic institutions; during my tenure as Assistant Professor in Dance at the Universidad de las Americas Puebla (Mexico), as a Guest Professor at the Winona State University (MN), and as a Research Associate in Theater and Dance at the J.F. Oberlin University (Japan). I was able to provide instructions on the relationship between performing arts theory and practice, navigate students to explore the possibilities of their expressions and advise on production efforts. I was always excited to listen to my students' creative and experimental proposals in their performance and film, and brainstorm with them to find a practical approach and aesthetic best suited to achieve their goals.
I would have never learned that without SSU. I fulfilled dreams I never knew I wanted. I learned to be authentically weird and have the confidence to express my rawness and perform on all sorts of stages. I now have the opportunities to share my experience of creation and production with my students and to enhance their skills and assist them in determining their future careers. Nancy Lyons, Kristen Daley, and Christine Cali all had different lessons when they taught me. However, one common thread was "inclusion and acceptance". I saw that with the care they applied to each student — giving everyone what they needed to become their best selves. We were united in our pursuit of exploring the essence of humanity through physical artistry. I wouldn't be where I am without the care of the professors and the support of my colleagues from Sonoma State University. 
Website: http://www.lisakusanagi.com/
Facebook: https://www.facebook.com/KusanagiSisters
Instagram:  @lisa.kusanagi ⎪ @kusanagi.sisters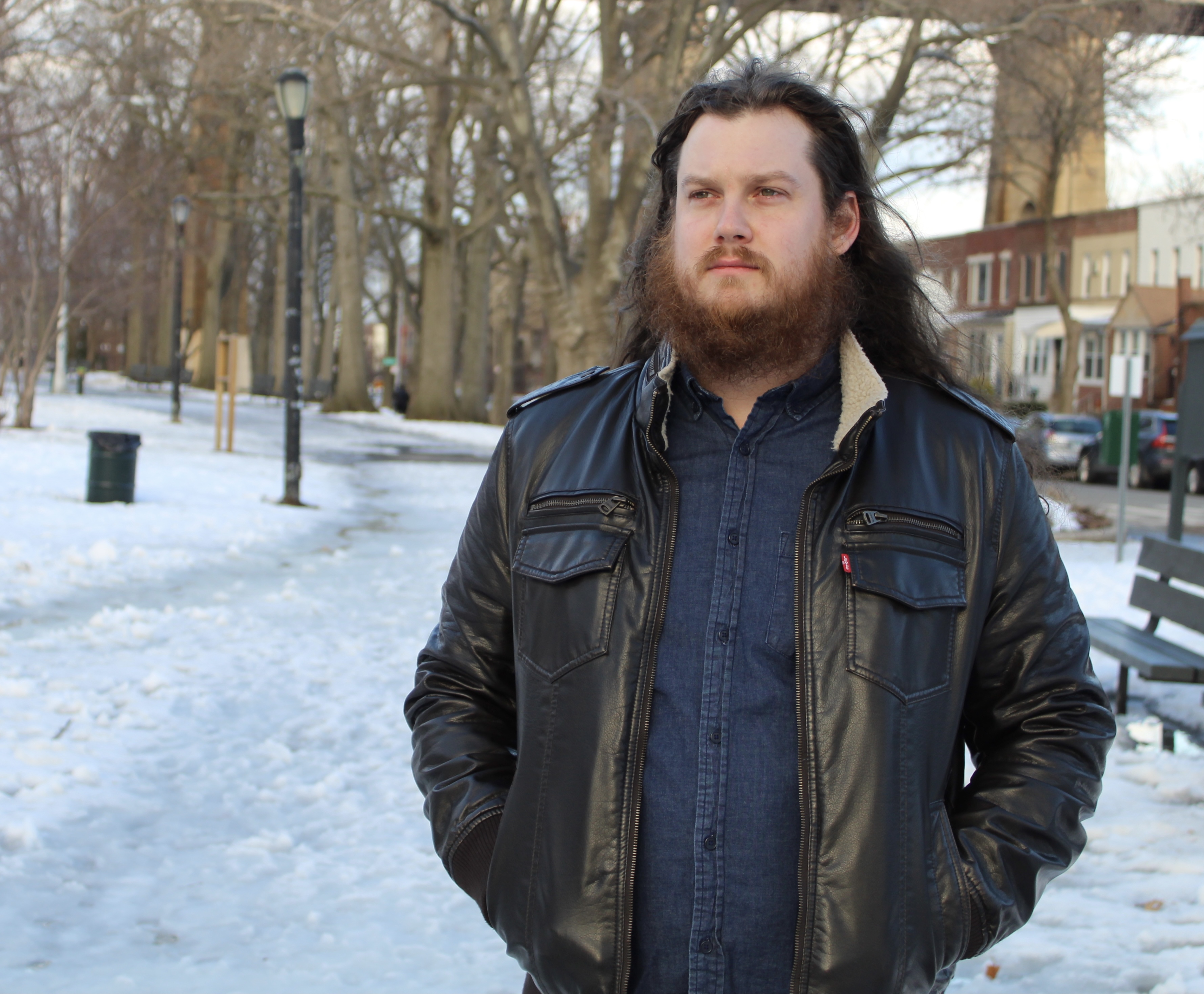 Dylan Waite, Class of 2013
In 2013 I graduated from Sonoma State University with a degree in Theater Studies. Since graduating I have continued to create theater in New York and San Francisco. In 2016, I became a member of the San Francisco Neo-Futurists (an experimental theater company in the city, with sister companies in New York, Chicago and London), and have been working with them both live and remotely ever since. In 2017 I collaborated with fellow SSU alumnus Justin Keim to create We Sold Rome!, a comedia piece set in 193 AD, which was workshopped as part of the American Conservatory Theater MFA program. Since the beginning of the COVID crisis, I have worked with a Puerto Rican theater magazine, Falso Mutis, to develop an original writing technique called Manivela, which involves a sustained period of writing determined by audience feedback, and partnered again with Justin Keim to develop Savannah, an original radio play which is being released by Lanes Coven Theater Company this February. In between all this I have written numerous plays and musicals, which have been mounted in New York, Chicago and San Francisco, and one of which (Love Versus the Meteor, 2018) received a brief, disinterested write up in the San Francisco Chronicle. I also spent some time writing for escape rooms in San Francisco's Palace of Fine Arts.

My experiences in the Sonoma State theater department strengthened the muscles I would come to use in scrappier and more experimental theater productions in my career. Classes which focused on playwriting, dramaturgy and theater history exposed me to a wide variety of plays and critical dramatic theory, which has enabled me to adapt to the challenges of various productions, whether that be how to produce a play in a closet, or how to create a viable dramatic structure without the presence of "characters''. (The Neo-Futurist aesthetic is based around the notion that everything which occurs onstage is real and truthful; I brought many ideas from old classes to discussions of how to work within such parameters.) Moreover, the theater department at Sonoma State was nothing if not generous with the amount of access to resources they provided the students, particularly regarding the smaller performance spaces in Ives Hall. The sheer amount of student driven work we were enabled and encouraged to produce was invaluable in preparing me for the realities of working in some of San Francisco's more eccentric performance spaces, or self producing something off-off-Broadway. My final year at SSU culminated in the theater department itself producing my original full length play, The Seance. In doing so, they not only provided me with an opportunity to understand the process of writing a full length play and working on it throughout a production, but fixed in my mind a sort of guarantee: if you put in the time, hone your craft and make opportunities for yourself, someone is eventually going to notice and it will pay off. I will never run out of gratitude to the school or the department for providing me with that opportunity, an opportunity that would perhaps not have been possible at a larger school. And then there's the library. You have to love the library.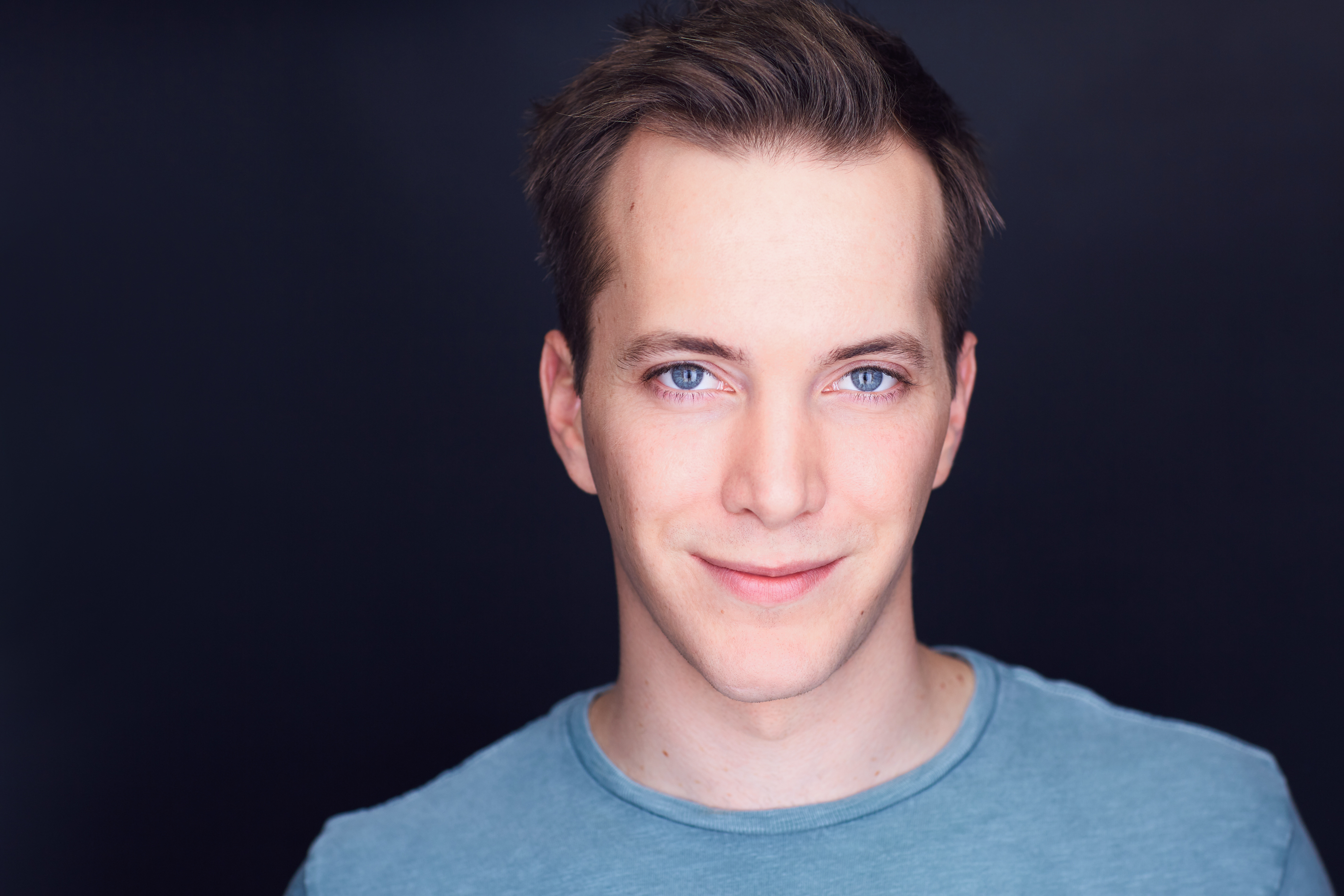 Justin Edward Keim, Class of 2012
I am so grateful to Sonoma State for igniting my love of theatre. I graduated from SSU in 2012 with a degree in History. Growing up, I always had a passion for storytelling, and I thought studying History was the way to navigate that. Halfway through my collegiate career, for a change of pace, I enrolled in an acting fundamentals course. I failed. I loved the stories being told but I was too in my head. I feared going on stage and being vulnerable. I couldn't commit and began missing a bunch of classes. My instructor told me that the only way I was going to pass the class was if I signed up to be an actor for that spring's Super Mega Hot Molten Hot Lava New Play Festival. Aptly named, seeing how Super Mega Hot Molten Hot Lava was the name of the dance my insides were doing when I knew I'd have to perform onstage in front of an audience. However, this show turned out to be one of my favorite and most rewarding experiences at Sonoma State. It opened up a whole new world for me. Not only did I get a chance to see the inner workings of theatre, I was given an opportunity to fully participate in every aspect of theatre making. The rehearsal room became a magical place. Students were creating new plays, exploring their meanings, and working as a team to get them up on their feet. It was such a fulfilling, cathartic experience; I felt like I finally had a sense of community. When the moment finally came to perform on stage, I realized I was so passionate about and excited by these plays, that the reward of acting them out for others to hear and experience far outweighed any fear. I was so blown away by the experience, the faculty, and my peers that I decided to minor in Theatre. Eventually, I found myself taking more Theatre classes than History.
One of the plays I performed in during that festival was by fellow alumnus and playwright Dylan Waite. Since that show, Dylan and I have collaborated in upwards of a dozen different shows together from Sonoma State to San Francisco to New York City. I am so thankful for my experiences at Sonoma State because I am still reaping the benefits from my training and the connections I made there.
Sonoma State not only gave me the tools and the confidence to compete in the theatre world. Without Paul Draper or Doyle Ott's encouragement, I would have never had the confidence to apply to the American Conservatory Theater MFA program, where I graduated in 2018. The beginning of that program was daunting. I was surrounded by students from big name schools, even Ivy League Universities. I was the only one in the whole program from a California State school. The training I received at SSU not only sparked my passion for theatre but also gave me the tools necessary to compete and excel at the highest level. 
Since graduating SSU in 2012, I have been lucky enough to perform in plays across the Bay Area and New York City. Sonoma State was such an instrumental part of my training and theatrical experience that no matter what rehearsal room I'm in I keep reflecting back on things I learned in Ives 101. One of the things I'm most grateful for was the faculty's encouragement of student driven work. The program never felt like a study hall.  It was a playground for creativity and new ideas. The faculty gave us the keys and let us get behind the wheel. Literally. They gave us the keys to the Ives building so we could put on a student play, by ourselves, at midnight! It was this encouragement and passion for creativity that continues to fuel me. In 2018, I was lucky enough to receive the A.C.T. Alumni Innovator award for my work in new play development. This passion all started from that first Super Mega Hot Molten Hot Lava New Play Festival. 
Due to the pandemic and theatres across the country being shut down, Dylan Waite and I have been trying to continue exercising our theatrical muscles in new and creative ways. As I'm sure many reading this already know, it's been a struggle to keep creative during this time. For a while it felt like my passion was being stamped out. But, like I learned at Sonoma State, new challenges bring new opportunities. For the past three months we have been working with Lanes Coven Theatre Company, in Gloucester, Mass., developing Savannah, a radio play that will be released at the end of this month. It has been such a rewarding experience teaming up with a fellow alumni to create something new and exciting. We have also been lucky enough that our work has garnered some attention. So much so, that the American Conservatory Theater has even put it on their list of recommended productions. I am so thankful to the Sonoma State Theatre Department for helping me discover my passion for theatre and encouraging my development as a creative artist.
For more information about Savannah please visit the Lanes Coven Theatre Co. Website
Instagram: @justin.keim